An integrated publisher solution by Switchboard and Boostr

The why
Maximizing revenue requires ops teams to ensure deals, revenue, delivery, customers and sellers are tracked and managed efficiently across the sales lifecycle. To do this, top revenue organizations use Boostr as a best-of-breed OMS (Order Management System) and CRM (Customer Relationship Management) solution. The goal? A single view that unifies direct and programmatic deals, and open market monetization, providing the ultimate revenue visibility and control to ops, sales, and leadership teams across the business.
But gaining this view becomes increasingly challenging. With monetization partners, deal types, and product offerings growing in number, the result is often siloed reporting, with key information such as budget, revenue, and delivery scattered across different ad servers, SSPs and customer systems. This can lead to critical gaps in the OMS revenue coverage.
The what
Switchboard's DataOps platform integrates with Boostr's OMS to deliver a unified view of revenue and forecasting across all direct, programmatic and open market bidding. This enables teams to track revenue goals across channels, measure campaign performance, and summarize how much revenue deals are producing, in real time.
Unifying deal, revenue and delivery data means sales teams are able to slice and dice to get the specific views needed, e.g. revenue by seller, customer, territory, or deal type. Based on all sales activity and inventory, they can forecast a level of precision that enables decisions to be made with confidence.
Furthermore, by integrating Switchboard, teams now have a unified data asset that can be readily leveraged by finance teams for reporting and reconciliation, and by BI teams for deeper insights. Switchboard simplifies this unification both within Boostr's Insights module, or externally through automatic integration to EDWs such as Snowflake or BigQuery.
The how
The turnkey integration works for customers who want to pull both programmatic and direct ads revenue and delivery data into Boostr's analytics module. The goal is to gain visibility and manage the scope of revenue and forecasting from within Boostr, powered by the real-time data from Switchboard via this unique partnership. With this strategic data asset, customers can drive advanced revenue and customer analytics without initiating a heavy data engineering project.
Switchboard's value
Comprehensive data unification - 100% of revenue data (programmatic and non-programmatic) is automatically aggregated, normalized, and pushed to the Boostr OMS

Actual revenue via instant feeds - deals in Boostr are immediately updated with revenue and delivery actuals extracted directly from each partner

Forecasting & revenue analytics - real-time actuals data is available within Boostr's Analytics module

Advanced analytics support - unified data is automatically integrated into any EDW

Rapid onboarding - publishers are onboarded within 4-6 weeks vs months

360 support - 24/7 live operations support for partner feeds and data quality

24/7 data quality monitoring - protect the integrity of critical reports against upstream glitches in partner systems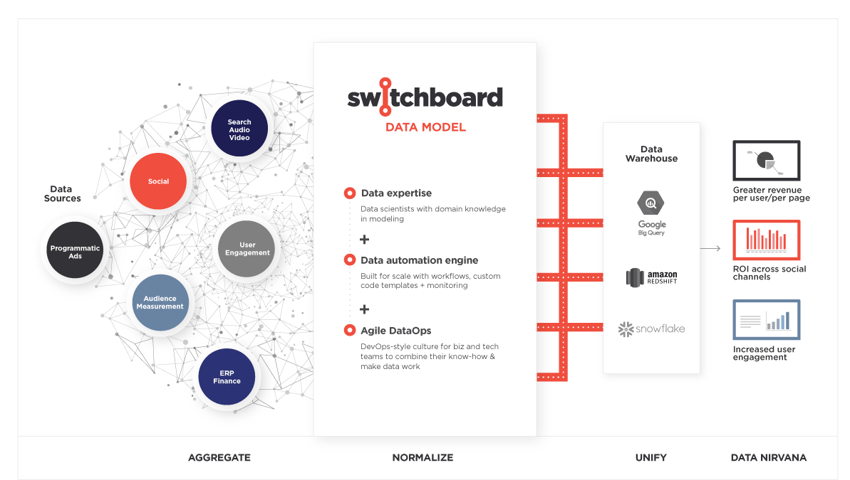 The customer use case
Each day, Switchboard automatically pulls PMP "Actuals" (from various PMP/SSP sources).
Switchboard uses the Boostr API to loop through the list of PMP actuals, and adds the new revenue entries daily or updates existing daily entries.
All data is checked to ensure it's valid and well structured, then aggregated and normalized into a Booster-friendly schema.
---

If you'd like to know more about how you can gain a unified view of revenue and forecasting, let's connect today.